2023-11-09
Click here for frequently asked questions.
Here we have selected the items that we receive the most inquiries about.
I would appreciate it if you could check it out for your reference.
If you have any questions, please contact us from the official LINE below ↓
1. Check-in/check-out, meals, and belongings
①Check-in/Check-out
・Check-in is possible from 15:00 to 18:00. If by any chance you arrive after 6pm, we would appreciate it if you could let us know your estimated arrival time in advance.
・As the dining deck can only be used until 9pm, we recommend that you check in early.
・Check-out is until 10:00 the next day. If you would like to be picked up and dropped off, please let the staff know your desired time at check-in.
・Staff will be on site from 8:00 to 22:00, so please complete the procedures by then.
※Note
Please note that due to cleaning reasons, we will not accept check-ins before 3:00 pm, even if there is a charge. Also, you cannot check out later than 10:00 the next day.
②About dinner and breakfast
At check-in, please select your desired start time between 17:00 and 19:00. (You can use it later if you wish. Deck usage time is until 21:00)
For the next day's breakfast (light snacks such as hot sandwiches, yogurt, and juice), the staff will clean up the dishes after dinner, and we will bring them to your room at that time. Please enjoy it at your favorite time.
For dinner, the staff will bring meat and other ingredients for the BBQ to the deck. The style is for customers to grill the meat themselves.The BBQ equipment is gas powered, so anyone can easily use it.
Alcohol and soft drinks are available for a fee. We also have local Yamanashi sake, carefully selected wines, champagne, and rare alcoholic beverages, so please try them out.
You are allowed to bring in your own food, so if you need something, please feel free to bring it with you. (Please note: There is no sink, water source, or knife for cooking, so please bring cooked food with you. There is no microwave, so please use BBQ equipment.)
③ Things to bring and precautions (including amenities)
We have amenities such as face wash, shampoo, serum sets, toothbrushes, and razors waiting for you at our facility (irons and hair dryers are also available).
We do not provide pajamas or nightwear, so please bring your own if you need them.
We do not have special meals for infants, so we would appreciate it if your family could bring their own.
We will be having a BBQ, so if you are concerned about smells or dirt, please bring a change of clothes (deodorizer for clothes is provided in your room).
Since the facility is located on a natural mountain, there are stairs and slopes. You will be walking on dirt, so please wear comfortable shoes. Since there are stairs to enter the room, it is not wheelchair accessible, so please consider this in advance.
※※*About winter temperatures from December to March
Mine no Hana, located at an altitude of about 900m, has a great view and clear air. Especially in winter, you can have a special experience of seeing Mt. Fuji covered in snow.
However, outdoor dining and guest rooms at night can get very cold.In winter, from night to morning, the outdoor temperature can drop to -5° on some days.
In winter, we take the following heating measures.
Guest room Cold region air conditioner, gas heater, electric blanket (all beds installed), humidifier
Outdoor Electric heater, roofed tent, outerwear rental We are taking all possible measures at our store. However, unlike regular hotels, the structure uses tent materials, so there is a limit to heating performance. During the winter, the air is clear and there are many days with great views, but on the other hand, the area, including the guest rooms, can be extremely cold. We recommend that you wear thick socks and gloves for outdoor BBQs, and dress warmly even in your guest room.
We also rent women's outerwear for free to protect against the cold and to prevent dirt and odor, so please inquire on-site.

④ Regarding items for children (the following items are available at the facility, please bring any other necessary items)
https://minenohana.com/blogs/32
⑤About Wi-Fi
All rooms have free Wi-Fi, so please feel free to use it.
⑥Regarding storage of luggage such as carry-on bags
If you wish to mail your luggage in advance, please specify delivery in the morning of the day of your scheduled stay. You can store your luggage for free if you bring it into the facility.
Shipping address
〒401-0304 
山梨県南都留郡富士河口湖町河口2044
Mt.Fujiグランピングテラス 嶺乃華 宛
2. About celebratory balloons and cakes
At Mineoka, cakes (size 4) to celebrate anniversaries and balloon art to celebrate birthdays are available for a fee.
You can reserve the cake for 4000 yen. If you would like your name written on the plate, please let us know the desired text (English is also acceptable) when making a reservation.
Balloons will be used to decorate your room for 5,500 yen. Please see the options at the time of reservation for images and other details.
All reservations must be made at least 3 days in advance.
To make a reservation, please select the option at the time of reservation on the official website, orPlease let us know here.
3. About free transportation (to and from)
①Meeting place
After exiting the ticket gate at Kawaguchiko Station, walk about 10 meters to your right (with the station behind you) and you will see a red train on display on the premises. There is "Platform 10" across the crosswalk in front of that red train, which is the pick-up point for the shuttle.
Platform 10 Shuttle car Silver Alphard (wagon) Number Mt. Fuji 800 S.830

② Time (3 flights are available. Please note that it will be Japan time)
15.00 Depart from Kawaguchiko Station
16.00 Depart from Kawaguchiko Station
17.00 Depart from Kawaguchiko Station
*Reservations for pick-up and drop-off must be made at least 3 days in advance.
*Please make a reservation for return transportation at check-in. (2 routes departing at 8:50 and 10:20)
*Since the capacity is 5 people, if the number exceeds that number, the transfer may be divided into two trips. In that case, please note that the remaining passengers will have to wait at the station.
4. About room types
Mineoka has a total of 6 types of rooms available to suit your needs. The facility has a total of 6 rooms, 3 rooms on the upper level and 3 rooms on the lower level. The upper rooms are at a higher altitude and have a better view than other rooms. They all face the same direction and you can see Mt. Fuji and Lake Kawaguchi.
1、Executive Suite Asian Resort 7m Dome Tent Top Tier (Overwhelming View)
2、Presidential Suite Modern Luxury 8m Dome Upper Tier (Overwhelming View)
3、Sky View Suite Asian Resort 7m Dome Upper Tier Pets Allowed (Overwhelming View)
4、Sky View Suite Oriental Japon Large 8m Dome
5、Executive Suite Modern Luxury 10m semicircular dome with glass front
6、Terrace Suite Oriental Japon 7m Dome Pets Allowed
Please see the facility map for detailed location.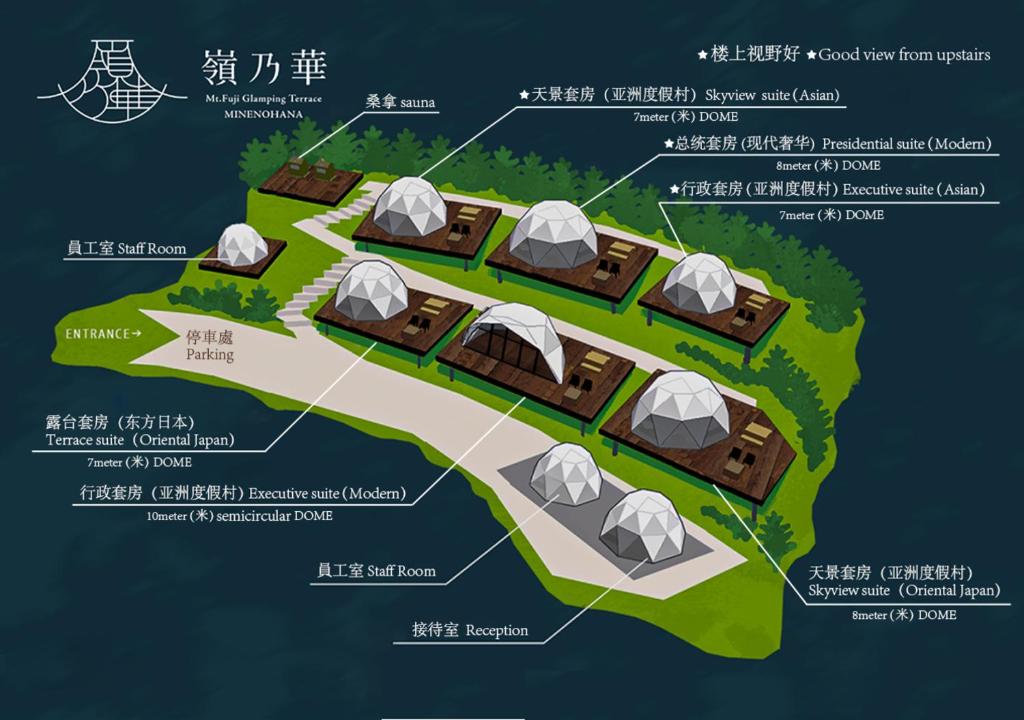 5. About activities
We have partnered with businesses that offer a variety of activities around Lake Kawaguchi, and we are able to offer them at a lower price than regular reservations. For more information, please visit the website below and make a reservation directly. ↓
HP
If you let us know that you are being introduced by Minenohana when making a reservation, we will be able to provide you with a special discount that is cheaper than the general price.
To prevent any trouble, please note that we do not accept reservations on behalf of our customers.
6. Regarding parking (including winter)
The parking lot is a little narrow because it utilizes a natural mountain.
Please watch this video to learn how to park.
If you are concerned about driving, we also have a second parking lot outside the premises, so please contact us.
https://minenohana.com/admin/blogs/35
There is space on the premises to park up to 6 cars. No special reservations are required. However, if you are coming with two cars or a large car, please use the second parking lot.
7, About pets
Please see below for details on what to bring with your pet, things to be careful of, and things to prepare.
https://minenohana.com/blogs/33
8. Regarding bonfires, fireworks, and smoking
A fire pit is provided on the private deck of each room. We provide firewood and fire starter for free (if you would like additional firewood, there will be a charge), so you can enjoy the fire while looking at the night view.
You can enjoy it until 9pm at night and from 7am in the morning.
Smoking is prohibited throughout the facility, including the rooms, but it is permitted on the guest's private deck. (Including electronic cigarettes)
Fireworks are completely prohibited within the facility. There are parks nearby that allow fireworks, so please use them.
Kawaguchiko General Park
Oishi Park
Sakura holiday park
Kunugidaira Sports Park
Yagisaki Park
※As this facility is located off-site, we cannot be held responsible for accidents or fires, so please use it at your own risk.
9. Regarding cancellation and change of schedule/number of people
①We will respond according to the cancellation policy depending on the plan you booked. In the following cases, we will issue a refund as an exception.
If a warning is issued by the Japan Meteorological Agency and business is canceled for the area where the hotel is located on the day of check-in.
If the train or air flight you are scheduled to use on the day of check-in becomes eligible for cancellation fee exemption (no charge) due to a natural disaster.
If business is discontinued at the discretion of our company
②Regarding changes in number of people and child fees
Regarding changes in the number of people, if there is a decrease in the number of people, it will be canceled for one person, and the amount will be settled based on the cancellation policy at that time.
Our facility offers discounted rates depending on the age of the child. Free for infants (0-3 years old). For children 4 to 12 years old, the fee is 8,800 yen (meal included). Please note that even families who do not require meals for their children will be charged a facility usage fee.
10. About parking lot and winter snowfall
https://minenohana.com/blogs/35
11. Regarding rainy weather
At Minenohana, we have several rental items such as playing cards and board games so that you can use our facilities with peace of mind even in rainy weather. However, it can get especially cold during rainy weather in winter, so please wear warm clothing when BBQing outdoors. BBQ will be held on the private deck attached to each room. There is a 3m x 3m tent with a roof on the deck, so you can enjoy BBQ even in rainy weather.
12, About meals
Please see the URL below for meal details.
https://minenohana.com/blogs/36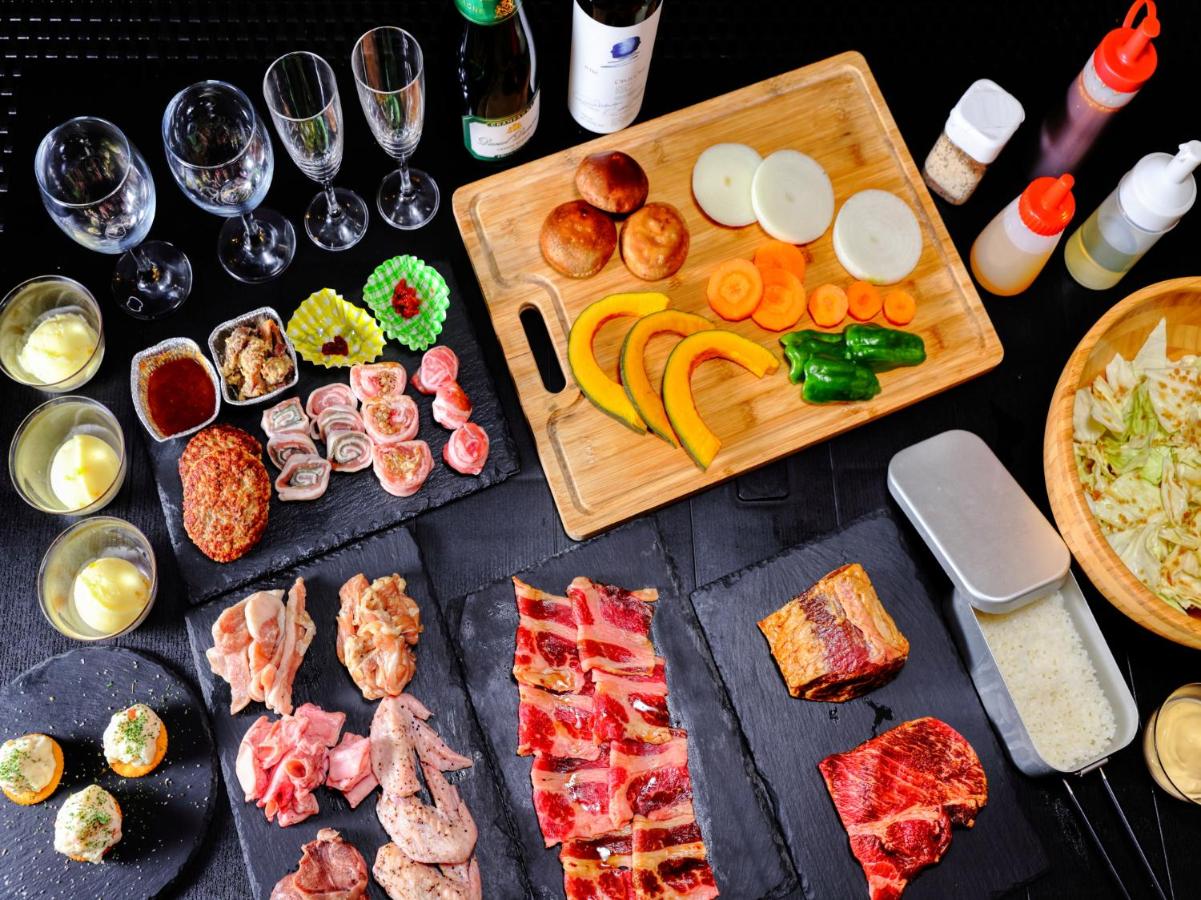 If you have any requests such as abstinence from eating, please enter your request from the URL below.
https://docs.google.com/forms/d/e/1FAIpQLSdR0HyEq93Ua5Zk2Kofiq-iMXf7DFI9_LtepLBrg5zuOTZtAA/viewform
13. About the sauna
There is a private tent sauna within the facility, which is a paid service. We would appreciate it if you would consider using it to create memories. If you wish to use it, please apply from the options.
We have a private water bath tub in each room (warm water is also available, so you can use it even during the winter).
We will prepare Samue for the sauna for each person, so you can use it without bringing your own. (Although it is outdoors, it is a completely private room, so you can take a bath without clothes, but if you need clothes, please bring your own swimsuit.)
45 minutes private rental 5,500 yen (for 4 or more people, 500 yen per person plus up to 6 people. There are no other rental items)
You can reserve a private room of approximately 23 square meters and enjoy nature while enjoying the Aroma Loryu Sauna by choosing from multiple types of aromas.
Available times: 15:30 to 21:30, 7:30 to 9:30 the next day (advance reservations are not required; time reservations will be made at check-in)